Pet Funeral Farewell Letters: Writing Letters of Love and Gratitude to Your Pet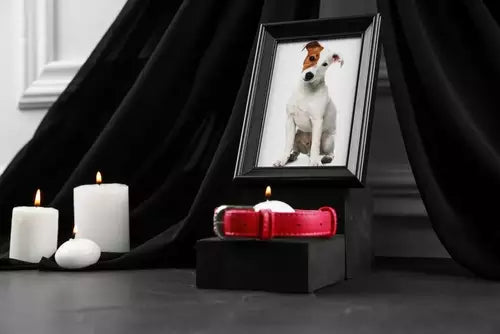 Losing a beloved pet is a heart wrenching experience, and the grief of losing a pet can be overwhelming. Our pets hold a special place in our lives and hearts, and finding ways to express our love, gratitude, and farewell is an important part of the healing process. Pet funeral ceremonies provide an opportunity to say goodbye and pay tribute to our furry friends, but another meaningful way to honor their memory is through Pet Funeral Farewell Letters. These heartfelt letters allow us to express our deepest emotions, preserve cherished memories, and find solace in the process of grieving.
Understanding Pet Funeral Ceremonies
Pet funeral ceremonies are a way for pet owners to find closure, express their grief, and honor the life of their beloved pet. Pet funeral planning involves making decisions about burial or cremation, selecting a pet casket or urn, and customizing the memorial service. These ceremonies provide an opportunity to gather with loved ones, share memories, and celebrate the special bond shared with our pets.
The Power of Farewell Letters
Farewell letters are a powerful and therapeutic way to express our love, gratitude, and final thoughts to our pets. These letters allow us to articulate the depth of our emotions, reminisce about shared experiences, and convey our appreciation for the unconditional love and companionship they provided.
Find a Quiet and Reflective Space: Choose a quiet and comfortable space where you can focus on your emotions and memories of your pet.
Begin with a Salutation: Address your pet by name or any endearing nickname that holds significance.
Express Your Love and Gratitude: Pour out your emotions and express your unconditional love and gratitude for the joy and happiness your pet brought into your life.
Share Memories: Recall cherished memories, special moments, and the unique bond you shared with your pet. Reflect on the laughter, comfort, and companionship they provided.
Express Farewell and Final Thoughts: Say your goodbye, acknowledging the pain of their loss while affirming the eternal place they hold in your heart. Share any final thoughts, wishes, or promises.
Sign Your Letter: End with a closing salutation, such as With all my love, followed by your name or any nickname your pet might recognize.
Preserving and Honoring the Letters
After writing farewell letters, there are various ways to preserve and honor them:


Keep Them in a Special Place: Store the letters in a cherished box, a memory album, or alongside photographs and mementos of your pet.
Read Them Aloud: Take moments to read the letters aloud, either privately or with loved ones. This can provide solace and a sense of connection.
Include Them in Pet Funeral Ceremonies: Incorporate the reading of the letters into the pet funeral ceremony as a heartfelt tribute. Invite others to share their own letters or thoughts if they wish.
Create a Memorial Display: Display the letters alongside a photograph or artwork of your pet in a dedicated pet memorial area in your home.
The Healing Power of Farewell Letters
Writing Pet Funeral Farewell Letters can be an incredibly healing and cathartic process. It allows us to navigate the complex emotions that arise from the grief of losing a pet. The act of writing and expressing our feelings provides a sense of release, comfort, and closure. It serves as a way to honor our pets' memory and find solace in the love and bond that will forever remain in our hearts.
Dealing with the grief of losing a pet can be an isolating experience. It is important for pet owners to seek support and resources to help them through this difficult time. Pet funeral homes and crematories often offer pet funeral planning services, including guidance on writing farewell letters. Additionally, pet bereavement support groups, counseling services, and online communities can provide a safe space to share experiences and find support.
Honoring Our Beloved Pets
The grief of losing a pet is a deeply personal journey, and finding meaningful ways to honor and remember our beloved pets is essential for healing. Pet Funeral Farewell Letters allow us to express our love, gratitude, and farewell in a heartfelt manner. These letters become cherished keepsakes, preserving the bond and memories we shared with our pets. In writing these letters, we find solace, comfort, and a sense of closure as we navigate the grief and honor the profound impact our pets had on our lives.

In conclusion, the grief of losing a pet is a profound and challenging experience. Pet Funeral Farewell Letters provide a therapeutic outlet for expressing our deepest emotions and preserving cherished memories. These letters allow us to say goodbye, express our love and gratitude, and find solace in the healing power of written words. Through the process of writing farewell letters, we honor the unique bond shared with our beloved pets and keep their memory alive in our hearts.
Discover a wide selection of pet caskets and pet cremation urns at Titan Casket. With over 100 options to choose from, they offer a diverse range of tributes to honor your beloved pet. Whether you prefer a sturdy steel casket or a lightweight plastic urn, Titan Casket ensures that each product is crafted with care and attention to detail. Their pet caskets provide a secure and peaceful resting place, while their cremation and keepsake urns offer a beautiful way to preserve your pet's ashes or a memento of their memory. Trust Titan Casket to provide you with the perfect tribute that celebrates the life and love you shared with your furry friend.