What To Do With Your Pet's Ashes?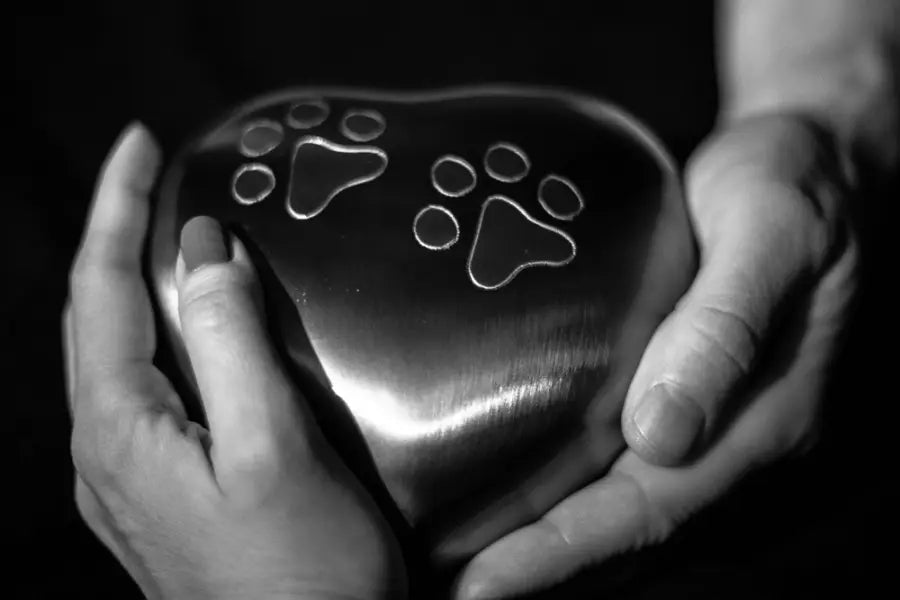 Cremated Your Pet? Here's What You Can Do With The Ashes
If you have recently lost a pet, you may have chosen a pet burial ceremony or pet cremation as a suitable way to lay the animal to rest. In case you chose the latter, it's possible that you now have the ashes of your pet stored safely in a pet cremation urn. While some people keep the ashes as they are, others choose different ways to deal with it.
When it comes to what to do with your pet's ashes, you have many options to choose from. Some, like scattering the ashes or burying them, are quite common and preferred by most people. Others, like pet cremation jewelry and even pet ash tattoos, are more unconventional and unique. If you're in a dilemma about what to do with the ashes in your pet cremation urn, we have some beautiful ideas that you can take inspiration from.
10 Things You Can Do With Your Pet's Ashes After Cremation
Whether you are looking for conventional options or weird and wonderful ways to use your pet's ashes, here are some great ideas to consider.
Bury the ashes in a place you can revisit -

Burying the ashes is one of the most common options available. You can choose to bury the ashes in a spot in your backyard or in a local cemetery, if you own a slot there. This way, you can visit the place often.

Scatter the ashes in a place that holds some personal significance -

You can also choose to scatter the ashes in a place that you and your pet visited often, like the local park or a lake nearby. It is also a great idea to scatter the ashes in water, if you live by the sea or if that seems like a nice place for your pet to rest in.

Use the ashes to grow a memorial tree - There are biodegradable urns for pets that allow you to place your pet's ashes in the urn, and then plant the bio urn under the ground. The seeds in the urn eventually grow into a plant and then a tree. You can nurture the memorial tree as it grows in order to honor your pet fittingly.
Get a tattoo in honor of your pet -
Some tattoo artists offer commemorative tattoo services, where a little pinch of your pet's ashes are added to the tattoo ink. This way, you can have a permanent memorial for your pet as a way to honor them.
Add the ashes to a pottery piece -
In this method, you can simply add a part of your pet's ashes to the clay and use it to make a nice piece of pottery. It's even better if you intend to use this piece of pottery often, because it will serve as a wonderful reminder of your pet.
Have your pet's ashes in a fireworks display -
For anyone looking for an extravagant and out-of-the-world way to use their pet's ashes, this idea works. You can contact a company that specializes in customizing fireworks with ashes of loved ones and use your pet's ashes for this purpose.
Add the ashes to a Christmas ornament -
If you absolutely love Christmas time, what better way to honor your beloved pet than by adding its ashes to a customized Christmas ornament? If your pet was particularly fond of playing with these ornaments, that makes this idea even more fitting.
Store the ashes in a special urn -
You can also simply choose to store the ashes of your pet in a special or a customized
pet cremation urn
. Customizations can include special carvings or inscriptions, or even photos of your pet printed along the exterior of the urn.
Consider getting some pet cremation jewelry made -
Pet cremation jewelry is made just like regular jewelry, except that it comes with a small hollow compartment — either in a pendant or a ring or even earrings — where a small pinch of your pet's ashes can be added.
Get a memorial diamond made -
A memorial diamond is made using the carbon in your pet's ashes. These synthetic diamonds can easily be set in any
pet cremation jewelry
of your choice. For instance, you could use it in a pendant or in a
pet cremation ring
.
Liquid error (sections/article-template line 215): invalid url input
Consider Your Options And Make A Suitable Choice
Ultimately, what you decide to do with your pet's ashes is a very personal choice. Consider all your options, do some research and then decide on the course of action that will give you closure. In case you are not quite comfortable with the idea of cremating your pet in the first place, you can always choose pet burial instead. You can even purchase a suitable casket for your pet from the wide range of options available on our online store. We offer steel pet caskets in various colors and sizes, so you can rest assured that your pet will be honored in a fitting manner.