How To Plan A Pet Funeral?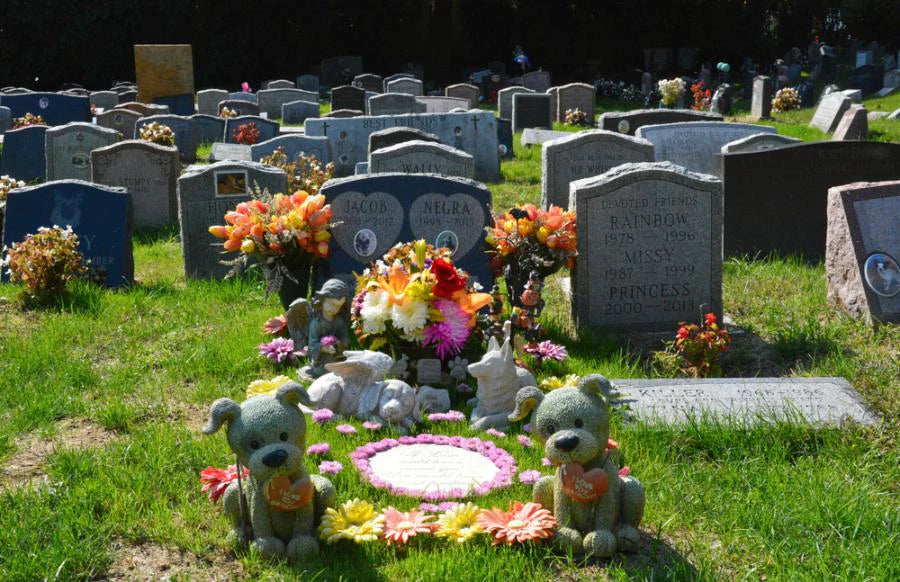 A Guide For Grieving Pet Owners And Their Caregivers
Whether you've just lost a pet yourself, or you know someone who has, you'll agree that despite the deep sense of loss that comes with such a tragedy, there are some essential things to take care of. One such essential aspect to handle is planning the pet's funeral. A fitting memorial service can be a wonderful way to honor your best friend and pay homage to the departed animal in a manner it deserves.
To plan a pet funeral efficiently and without any hassle, you need to have a plan of action to guide you from one step to the next. This guide can help you out here. Let's take a closer look at how you can go about planning a funeral for your pet.
A Step-By-Step Guide To Planning A Pet Funeral
Here is a step-by-step guide to plan a fitting funeral for your animal friend. This is just an illustrative guide, and you can change the process as you wish depending on the kind of ceremony you plan to host.
Step 1: Decide On The Kind Of Funeral You Wish To Offer Your Pet
You need to decide between burying your pet and cremating it. Before making a choice between these two options, you need to look at the pet burial laws in your state, the laws related to cremation and the overall pet funeral service costs for each of these methods of laying your pet to rest.
Step 2: Pick A Grave Site Or Decide What To Do With The Ashes
If you decide to bury your pet, you need to pick a site to lay the body down. You could do this in your own backyard, or you could purchase a plot in a pet cemetery for the same. However, if you choose to have your pet cremated, you can bury the ashes, have them stored in a display urn at home, scatter the ashes or even use them to plant a memorial tree or make pet cremation jewelry.
Step 3: Purchase A Casket Or An Urn As Needed
After deciding whether you wish to bury your pet or cremate it, you will have to purchase a casket or urn as needed. Pet caskets come in different sizes and materials, and are essential if you choose to bury your pet. You can opt for long-lasting and durable caskets made from metal, or you could choose more biodegradable options made from wicker or wood.
As for pet urns, they are also available in different materials ranging from marble, metal and stone to bamboo, wood and ceramic. You can compare the options available to you, check which of the urns align with your budget, and make a purchase accordingly.
Step 4: Plan A Memorial Service
Aside from the actual burial or cremation, you may also want to host a memorial service to honor your pet. You could do this at home, or you can book a venue to host this ceremony. Whichever option you choose, you will have to prepare a guest list, invite the guests, arrange for food and drinks if needed and take care of other arrangements like pet funeral readings.
Pet Funeral Ideas
In case you are not sure about the kind of pet funeral you wish to organize, here are some pet funeral ideas that you can consider.
Burying your pet in your backyard

Burying your pet in a communal pet cemetery

Cremating your pet and scattering the ashes in a place that holds a fond memory

Scattering your pet's ashes in water

Burying your pet's ashes and planting a memorial tree

Purchasing pet cremation jewelry made using the ashes

Creating a pet memorial site with a headstone or a grave marker

Don't Be Afraid To Ask For Help If You Need Assistance With Your Planning
Losing a pet can be a very tough time, and trying to plan the pet's funeral all on your own can be quite a challenge. So, don't hesitate to seek help from your friends and family in case you need a hand with all the responsibilities that come with it. You can delegate certain important tasks like preparing pet funeral readings, arranging for a venue for the service, and purchasing a pet funeral casket to different people in your circle of loved ones.
Speaking of caskets, if you are looking for a durable and well-crafted funerary box to lay your pet to rest in, we at Titan Casket may have just what you need. Our range of durable steel pet casket includes models in different colors and sizes, so you can take your pick from a wide range of options. Once you have the casket picked out, planning the rest of the funeral will be fairly easy.